PPR Pipe Production Line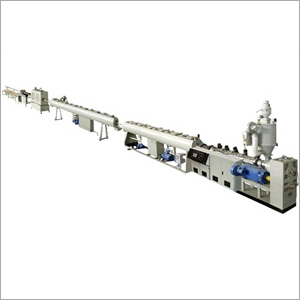 PPR Pipe Production Line
Product Description
Production line features:
The plasticizing effect of the special screw is good.
The use of composite spiral head can effectively clear the material memory function.
Vacuum setting, constant temperature control, eliminate the stress of the pipe.
The co-extrusion head is adopted, and the pipe color marking line is added.
Add co-extrusion main machine and mold on the original basis to produce PP-R glass fiber reinforced composite pipe.
Optional man-machine interface operation.
Technical Specification
| | | | | | | |
| --- | --- | --- | --- | --- | --- | --- |
| Specification | YF180 | YF240 | YF400 | YF600 | YF800 | YF1000 |
| Max width of profile | 180 | 240 | 400 | 600 | 800 | 1000 |
| Drawing height | 140 | 140 | 140 | 140 | 140 | 140 |
| Drawing force | 15 | 30 | 30 | 40 | 50 | 50 |
| Drawing speed | 0.5-5 | 0.5-5 | 0.5-5 | 0.5-5 | 0.5-5 | 0.5-5 |
| Auxiliary equipment total power | 18.7 | 31.6 | 31.6 | 31.6 | 31.6 | 37.1 |
| Compression air | 0.6 | 0.6 | 0.6 | 0.6 | 0.6 | 0.6 |
Contact Us
No.28, jinzhong road industrial park metallurgical yangzi river, zhangjiagang, Jiangsu, Jiangsu Sheng, 215625, China
Phone :+8615312029500