SJ25-25Single Screw Extruder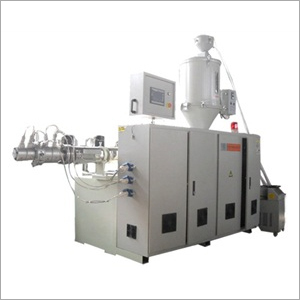 SJ25-25Single Screw Extruder
Product Description
Features and uses:
This machine is mainly used for the processing of PP, PE, ABS and other plastics.
With various auxiliary machines, it can directly produce profiles and pipes.
Sheets and other plastic products or granulation.
It has the characteristics of simple production process, high output, stable quality and low cost.
Ordinary type and PLC control are available for selection.
The aspect ratio can be customized according to different materials of users (applicable to 25:1-36:1).
The electrical configuration can be configured according to the actual needs of users.
Technical Specification
Model

Screw diameter

(mm)

L/D Ratio

Drive power

Center height

Ouput(kg/h)

JTR45/33

45

33:1

37

1000

1000

JTR60/33

60

33:1

75

1000

1000

JTR75/33

75

33:1

110

1100

1100

JTR90/33

90

33:1

160

1100

1100

JTR120/33

120

33:1

280

1100/1300

1100/1300

JTR150/33

150

33:1

400

1300

1300
The main technical parameters:
| | | | | | |
| --- | --- | --- | --- | --- | --- |
| Parameter \ Model | Aspect ratio (L/D) | Yield (kg/h) | Screw rotation (rpm) | Motor power (kw) | Center height (mm) |
| SJ25/25 | 25:1 | 0.5-3kg/h | 10-150rpm | 1.5KW | 1000mm |
| SJ-30/25 | 25:1 | 1.5-10kg/h | 15-150rpm | 3kw | 1000mm |
| SJ-45/25 | 25:1 | 5-25kg/h | 12-88rpm | 7.5kw | 1000mm |
| SJ-65/25 | 25:1 | 20-85kg/h | 13-130rpm | 22kw | 1000mm |
| SJ-90/25 | 25:1 | 50-100kg/h | 33.3-100rpm | 55kw | 1000mm |
| SJ-120/25 | 25:1 | 84-190kg/h | 17-52rpm | 75kw | 1000mm |
| SJ-150/25 | 25:1 | 50-300kg/h | 7-42rpm | 90kw | 1000mm |
| SJ-200/25 | 25:1 | 180-430kg/h | 5-30rpm | 160kw | 1000mm |
Contact Us
No.28, jinzhong road industrial park metallurgical yangzi river, zhangjiagang, Jiangsu, Jiangsu Sheng, 215625, China
Phone :+8615312029500