SRL-Z100200L Series Mixing Unit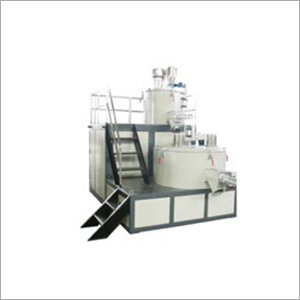 SRL-Z100200L Series Mixing Unit
Product Description
Production line use:
It is used for batching, mixing, drying, coloring and other processes of various plastics. It is the most ideal first choice for profile and pipe manufacturers.
The main shaft sealing device has won the national patent. The hot mix has self-friction and electric heating functions.
The lid is double-sealed and opened pneumatically.
The blades have passed the special test of static and dynamic balance testing machine.
The main technical parameters:
Parameters/Models

Total volume (L)

Effective volume (L)

Motor and heating power (kw)

Spindle speed Main (rpm)

Water consumption (t/h)

Air consumption (m3/h)

Dimensions (mm)

Heating Way

Unloading Way

SRL-Z100/200L

100/200

35/75

14/22/5.5/6

650/1300/130

5

0.3

2550*2690*2250

Electricity add hot / since Mount wipe

gas move

SRL-Z200/500L

200/500

150/375

30/42/7.5/9

475/950/100

5.8

0.4

3570*3200*2470

SRL-Z300/600L

300/600

225/450

40/55/11/9

475/950/100

6

0.4

3800*3600*2740

SRL-Z300/1000L

300/1000

225/640

40/55/15/9

475/950/80

7

0.4

3980/3600*2850

SRL-Z500/1000L

500/1000

375/640

47/67/15/12

430/860/80

7

0.4

4600*3800*3350

SRL-Z500/1600L

500/1600

375/1200

47/67/18.5/12

430/860/50

12

0.45

4680*3800*3850

SRL-Z800/2000L

800/2000

600/1500

60/90/30/15

370/740/50

14

0.45

5260*3900*4370

SRL-Z1000/2500L

1000/2500

750/2000

110/160/30/18

370/740/50

17

0.5

6040*4460*4400
Contact Us
No.28, jinzhong road industrial park metallurgical yangzi river, zhangjiagang, Jiangsu, Jiangsu Sheng, 215625, China
Phone :+8615312029500