Winder Machine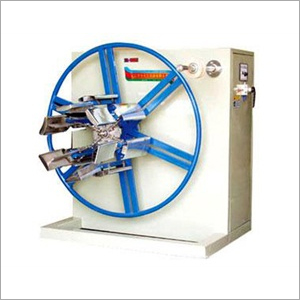 Winder Machine
Product Description
Single disc winder
This machine is suitable for winding small and medium plastic pipes. It is used in conjunction with the extruder, the setting table and the tractor, so that the plastic pipe can be directly wound into a roll after the tractor, avoiding the inconvenience caused by the unwinding.
The main technical parameters :
Scope of application (tube) 16-32mm
Winding speed 3-12m/min
Rewinding diameter 350-500mm
Double disc winder
This machine is suitable for rewinding and packaging plastics such as PE, PP-R, aluminum-plastic composite pipes, cross-linked composite pipes and sheets drawn from the front. There are two reels alternately reeling to ensure continuity. It adopts pneumatic opening or closing, and is equipped with a polished rod cable arrangement, which can automatically arrange cables to achieve uniform cable arrangement and neat winding. The whole machine has a compact structure, a high degree of automation, beautiful appearance and convenient operation.
The main technical parameters:
Rewinding tube diameter 16-110mm (adjustable)
Winding speed 0.5-15m/min
Rewinding width 200-500mm (adjustable)
Contact Us
No.28, jinzhong road industrial park metallurgical yangzi river, zhangjiagang, Jiangsu, Jiangsu Sheng, 215625, China
Phone :+8615312029500